Maintaining a fit and healthy life has become a tough task with our fast-changing lifestyle and diet habits.
A modern lifestyle demands a regular check on overall health and fitness. But, monitoring it yourself is not that easy.
There is a nice saying – "He who has health has hope, and he who has hope has everything. – Arabian proverb"
Thus, maintaining fitness is one perspective to remain healthy. But, is it possible to keep track of efforts towards fitness?
Yes, you can track your physical activities using any of these best fitness trackers available in the market nowadays.
Top 10 Best Fitness Trackers in India to Buy [2020 Edition]
Go through the list of best fitness trackers available in India that you can buy to observe your fitness activities.
1 – Fitbit Charge 3 – Fitness Activity Tracker
Track all your daily fitness activities from calories burned to heart rate with Fitbit Charge 3 – Fitness Activity Tracker.
Offered by Fitbit, Fitness Charge 3 is one of the best budget fitness bands available to buy in India.
Sleek design and several amazing features make Fitbit Charge 3 as one of the ideal fitness bands for daily wear.
The automatic connectivity feature allows this fitness tracker to connect to Android, IOS, and computer devices over Bluetooth.
You can get your fitness activities notifications through calls, Whatsapp, texts, mail and more. Fitbit Charge 3 also supports quick replies on Android device connectivity.
Key Features:
Battery last up to seven days
24/7 heart rate tracking
Monitor calories burn level
15+ exercises modes
Efficient sleep tracking
Female health tracking (period tracking and predicted ovulation calendar)
Personalized breathing sessions (based on heart rate)
Being one of the most durable Fitbit models, it can assist with Fitbit Coach to boost your workout and fitness.
2 – HONOR Band 5 – Fitness Tracker Band
The HONOR 5 fitness band is the successor to HONOR band 3 which has been launched in 2017 by Huawei.
Equipped with steps counter, heart rate sensor and OLED display make it one of the best fitness trackers to buy.
Having HUAWEI TruSleep technology, it helps you to monitor, analyze, and measure your sleeping, and breathing heart rate.
This fitness band can easily connect to laptops, computers and tablets and more through Bluetooth and wireless.
Key Features:
Water-resistant
Battery life – Up to 14 days
AMOLED display (to make fitness monitoring task easier)
24/7 heart rate monitoring
10+ fitness models (to help enhance your walking, running, and workout ability)
Slick design and attractive color
If you are looking for decent and best budget fitness bands, then HONOR 5 is the perfect device for you to serve your fitness tracking purpose at an affordable price.
3 – MI Band 3
A fitness tracker which is simple and doesn't have that advanced features, yet MI Band 3 is the real-time activity performance tracker that works the whole day.
You can wear it during swimming as MI Band 3 is water-resistant. It's an ideal choice for routine fitness activities.
Its large OLED screen enables you to view, accept and rejects calls. This fitness tracker also offers you to read SMS and Whatsapp messages.
Key Features:
OLED touch screen
Waterproof
Long lasting battery (up to 20 days, depends on usage)
Step counting
Heart rate and sleep monitoring
Weather forecasting
Password-free phone unlocking
Compatible with Android, the Mi Fit App is suitable to help customize your routine workout goals as per your needs.
4 – AmazefitBip
Inspired by the design of Apple watch, AmazefitBip fitness tracker looks like any other smartwatch instead of fitness bands.
Slick design and light in weight, this fitness tracker runs its in-built software focusing all your fitness activities effectively.
Key Features:
GPSenabled
Multi-sport tracking
Heart rate monitoring
Sleep quality tracking
Stylish and slick design
Android/iOS compatible
Water resistant
Strong battery life (up to 30 days)
The AmazefitBip is worth buying if you are looking for a smartwatch like fitness tracker that offers useful features.
Also Read: best fruits to eat post workout
5 – Garmin Vivofit 4 – Fitness Band
Keep a close check on all your regular fitness activities using "Garmin Vivofit 4", one of the best fitness trackers.
Having an attractive color display, the Garmin Vivofit 4 fitness tracker has many advanced features that make your fitness tracking simple and easier.
The water-resistant feature of Garmin Vivofit 4 fitness band allows you to perform your swimming activities without taking any worry.
Key Features:
Heart rate monitoring
Calorie burn rate tracking
Pulse rate checker
Attractive color and design
Waterproof
Prolonged battery life (one year)
This fitness tracker can store a backup of all your fitness activities in its memory for up to 1 month.
What else you would need?
6 – Samsung Galaxy Fit E – Fitness Tracker
Using its auto workout tracking, the Samsun Galaxy Fit E can detect 3major physical activities – walking, workout and running.
Its 5ATM (50-metre) water resistance capability allows this fitness gadget to let you wear it and track your heart rate while swimming.
This digital unisex fitness band is specially designed with high-quality rubber material to suit all kind of skin types.
The slick design and lightweight of this best budget fitness tracker allow a user to wear it all day long.
Key Features:
iOS and Android compatibility
Battery life – up to 6 days
5ATM swim-proof
Bluetooth 5.0 connectivity
Sleeping pattern monitoring
PMOLED display screen
Baked with Samsung Health App, this is one of the best fitness trackers with heart rate monitor capability.
7 – Fastrack Reflex 2.0 – Unisex Fitness Activity Tracker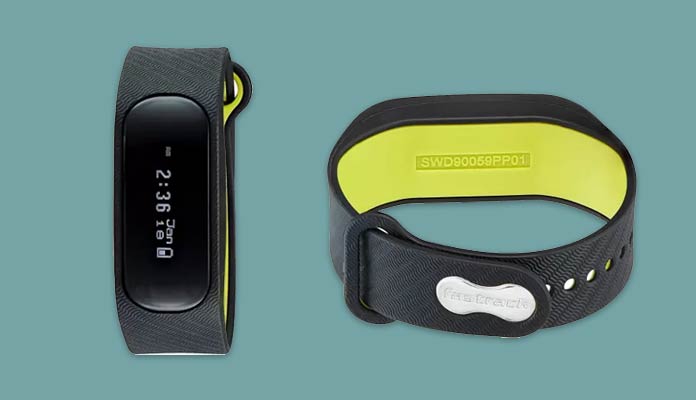 Keeps a close watch on your fitness activities using "Fastrack Reflex 2.0" without having to worry about your looks.
An improvised version of the watch, this wristband fitness tracker is one of the best budget fitness trackers in India.
As a handy fitness tracker, the GPS tracking ability enables you to locate your phone with its phone finder feature.
Key Features:
Prolonged battery life (up to 10 days)
Water resistance
GPS tracking
Phone finder
Attractive design
Accurate analysis
Sleep tracking
Incoming calls and messages alert
Though it doesn't have heart rate monitoring capability, its stylish look and design is an attractive point for the buyers.
8 – Huawei Band 3 Pro – Unisex Fitness Tracker
Durable and long-lasting, the Huawei Band 3 Pro is a digital unisex fitness band which has water resistance feature and highest battery life.
This all-in-one fitness tracker is backed with Ir Gesture and Accelerometer sensors to offer proper data checking on its display.
Compatible with Android v4.4 and iOS, Bluetooth v4.2, EDR is the option of connectivity to this incredible health gadget.
Key Features:
Waterproof unisex fitness wristband
Powerful battery – upto 30 days
Advanced tracking sensors
Heart rate and sleep monitoring
Allow phone calls, reminders, texts, timer and more.
Being one of the best fitness gadgets, it offers smart sports coaching and tracking, which help you personalized fitness activities.
9 – Moov Now 3D Fitness Tracking Band
Experience real-time audio coaching for regular activities like running, jogging, cycling, and boxing with Moov Now 3D Fitness Tracking Band.
Besides real-time audio coaching, the other positive point of this fitness tracking gadget is that you can wear it on your wrist and ankle, which is different from other fit bands of this range.
The Moov mobile app is essential to get sync with this device as you'll access data through this app only.
Key Features:
Real-time audio coach
Track sleeping pattern
Comfortable and easy to wear
Battery life – 6 months (non-rechargeable)
Unique 9-axis motion sensing (including accelerometer, magnetometer, and gyroscope)
Though it doesn't have a display feature, its real-time audio coach can offer continuous guidance throughout your routine activities.
10 – Fitbit Charge 2 – Fitness Activity Tracking Band
Though, Fitbit Charge 2 is more expensive than other range from Fitbit, but, if you are looking for accurate fitness trackers in India to track all your routine activities, then it would be a great choice.
It offers a large display screen to see activities data, GPS connectivity and has the best heart rate monitoring feature.
Key Features:
Heart rate tracker
GPS connectivity (through phone)
Activity tracking
Battery life – 4 days
Android/iOS/Windows compatibility
Large display
Comfortable strap
It may not be the budget fitness tracker, but this is one of the best fitness bands money make worth.
Final Note
We hope this list of the best fitness trackers available in India 2020 edition will help you to buy from any of these durable fitness bands that track your workout suitably.
If you think any other budget fitness gadgets/devices need to be a part of this list, do let us know in the comment section.
We welcome your suggestions and feedback!